CORDEEN-The Story Behind the band & its members
 FOUR ACCLAIMED MUSICIANS : TWO CULTURALLY CONNECTED ISLANDS : ONE COMMON INSTRUMENT
Cordeen is a group comprised of four of Ireland & Newfoundland's finest exponents of the button accordion, some also great vocalists! The title 'Cordeen' derives from the Newfoundland expression for the Accordion, a phonetic of the Irish Gaelic word 'Cairdín'.
Benny McCarthy(Danú) and Conor Moriarty (All-Ireland Champion 2010) hail from historic counties Waterford and Kerry in Ireland. Billy Sutton(The Fables) and Graham Well's(ex-The Irish Descendants) are from Harbour Grace & St.Johns in Newfoundland. All the members bring over two decades of experience in the music industry, from International touring artists to studio and concert producers. The cultural connection between Ireland and Newfoundland is at the musical heart of Cordeen, everything from the lively foot tapping tune to heartfelt Songs and airs.
A Cordeen concert is a truly unique musical experience full of energy, emotion and wit. 
Four centuries after the first Irish immigrants set foot on the shores of Newfoundland, a group of talented musicians came together under the name of their beloved instrument: Cordeen, from Irish cairdín, the native term for the button accordion those pioneering players brought with them from the old world to the new.  
The History 
Since the first Irish fishermen travelled west, captivated by the promises of this abundant land, Newfoundland has been a bastion of Ireland's enchanting cultural heritage. It is a place where people still speak with the unmistakable lilt of their distant ancestors and where the rhythms of traditional music echo ancient tunes brought from far across the ocean.  Their immigrant forefathers, of strong Munster stock, braved the harsh winds and tumultuous waves. By the mid-1800s, they comprised half the population of Newfoundland, leaving an indelible mark on the history, society and culture of the province. Through a unique musical lens, Cordeen will explore the legacy of the Irish in Newfoundland as they trace the story of traditional music, from songs of home to fresh new fusions. 
The Music
Each of the band's members brings a unique style of playing deeply influenced by the rhythms of their towns and villages, echoing the journeys they have taken to mastery. Waterford's Benny McCarthy, founding member of iconic traditional music group Danú, is a soft-spoken player with a dry wit and a twinkle in his eye. Hailing from the rich musical heartland of Sliabh Luachra, Conor Moriority is an All-Ireland Accordion champion who learned to play at the knees of great players like John Brosnan and Jimmy Doyle. Graham Wells, previously of the renowned band The Irish Descendants, is a true blue Newfoundlander from St John's whose grandfather passed down the art of the box by taking him to play at parties and dances across the island. Also from Newfoundland is Billy Sutton of popular trad/rock group The Fables- not only a master accordionist but a prodigious talent on the bouzouki, fiddle and mandola!
"

a complex yet seamless interplay between four boxes, each with it's own voice"
— IRISH MUSIC MAGAZINE
Benny McCarthy (Co.Waterford, Ireland) Began his musical voyage at the age of 13. He was crowned All-Ireland Oireactas champion on both Button Accordion and Melodeon in 1994.He teamed up with some friends to form the now iconic band 'Danú', a group he still performs and manages today . Benny has featured on over 30 albums since he began his professional career. Benny has performed/recorded with many leading Internationally known Artists over the years such as Liam Clancy(The Clancy Brothers), John Sheahan (The Dubliners), Tom Paxton (USA), Donovan (UK), Donal Lunny (The Bothy Band Planxty) Sean O'Sé (ILegendary Irish Tenor) to mention a few. Theatre projects over the years include collaborations with Irish comedian/actor Jon Kenny (D'Unblievables) and Irish hit show 'Teac A Bloc' with the great visual artist Des Dillon. Benny has also performed as part of some State/Trade delegations to USA (Culture Ireland delegation in 2010 & 2011), India (Trade/Culture delegation with Ireland's PrimeMinister in 2006), Bulgaria (State visit with Ireland's President in 2009) and Europe (EU presidency event in 2007) . Recorded and produced many albums and theatre soundtracks over the years in his own studio in Co.Waterford. Benny is regularly featured with his various groups on Irish TV and Radio (RTE, RnaG, TG4 etc) ,International and Online radio & TV broadcasts (BBC, CBC etc)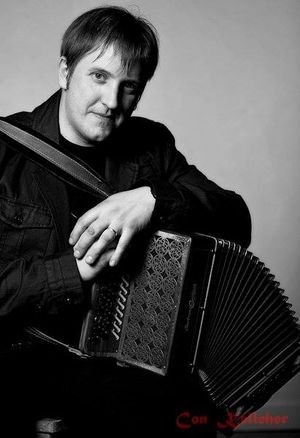 BENNY'S DISCOGRAPHY1994 Knocknagow Ceili band Album/1996 Amba EP/1997 Danu-debut/1998 Rattle The Boards-debut/2000 Danu-Think before you think/2002 Danu-All things considered/2003 Danu-The road less traveled/2004 Teac A Bloc-Music The show/2004 Up in the air-Members Of Danú/2005 Danu-When all is said and done/2005 Danu-One night stand (DVD)/2006 Pure Irish Drops-Music of Deise/2006 Tech A Bloc-Traditional Irish Madness (DVD)/2008 Rattle the Boards - The Parish Platform/2008 Pure Irish Drops-20th Anniversary/2010 Danu-Seanchas/2011 Raw Bar Collective-Millhouse measures/2011 Gough, Clancy, Bracken & McCarthy- Sessions found 1995-2002/2011 Pure Irish Drops-Harmonicas and Harmonies/2011 Danu-Nollaig In Eireann/Christmas In Ireland/2012 The Tin Sandwich Band-By Hook or by Crook/2014 Pure Irish Drops-Irish Accordion Connection/2015 Danú-Buan/2016-Raw Bar Collective-Ag Fogairt An Lae/2017-Cordeen-Musical Bridge